Pickle is a necessary side dish in all the Indian meals. Indian Cuisine is very famous for its spicy hot pickles with variety of vegetables. Here is the recipe for the north Indian version of mango pickles. It has very nice flavor and mustard oil taste.
Phase I: Preparation of Mango for Pickle
Ingredients

•Raw mango (pickle variety) – 4 no (approximately one kilo or 50 cut pieces)
•Crystal salt – half cup
•Turmeric powder – 1 tablespoon
Method
•Wash mangoes well; wipe and cut mangoes; remove seeds as these seeds are not needed.
•Add crystal salt and turmeric with mango pieces; mix well and keep it for two to three days to marinate; toss it daily twice.
•As salt slowly dissolves, you can see the juice coming out from mango pieces; pick up mango pieces and sun dry them for 6 to 7 hours (drying time will be in days if you want to dry it with juice).
•Now it is ready for seasoning.
Phase II: Seasoning of Mango Pickle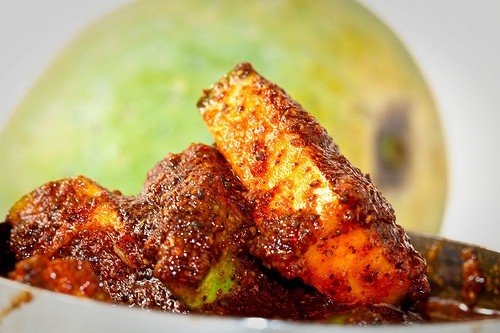 Ingredients
•Fennel seeds – 2 tablespoon
•Fenugreek seeds – 1 tablespoon
•Nigella seeds/kalonji (in Hindi)/karum jeeragam (in Tamil) – 1 teaspoon
•Red chilli powder – 2 tablespoon (can be adjusted as per taste)
•Turmeric powder – half teaspoon
•Asafetida – half teaspoon
•Salt – half tablespoon
Mustard oil – 1 cup
Method
•Partially pound fennel and fenugreek seeds; add all listed ingredients (including pounded fennel/fenugreek seeds and mustard oil) to the sun dried marinated mangoes; toss well, cover and keep it over night.
•From the next day onwards cover the pickle with a net or clean thin cloth and keep it in bright sunlight for 3 to 6 days; daily toss/mix it with a dry spoon twice minimum.
•Now Aam ka Achar – North Indian Green Mango Pickle is ready for use.
Recipe taken from cookatease
Picture taken from thetastesofindia.com and theindianfood.net
Google+
---